Oahu is one of the most popular islands in Hawaii and is littered with smaller areas with hidden gems that very few tourists get to see. Kahuku is one of those areas with immense beauty that is rarely seen by visitors even local Hawaiians that live outside of the area. Kahuku is located on the northern portion of Oahu and only has around 2,600 inhabitants, making it an ideal location to get away from the crowds of tourists. In Hawaiian, Kahuku means "the projection" and is thought to make reference to the northernmost point of the island. Here are some of the best things to see in Kahuku and the best ways to get around.
Beach Hopping
Hawaii is famous for their amazing beaches and Kahuku is no different. Highlights are the small beaches scattered throughout the area. Named after the region itself, Kahuku Beach is frequented by locals, but not many tourists. This makes Kahuku Beach ideal for those wanting to escape the crowded Oahu Beaches. Kahuku Beach is a wide beach with white sand and a large limestone shelf. The beach is perfect for relaxing in the sun, but it isn't recommended for swimming due to the rocky bottom.
Mālaekahana Beach is a short drive from Kahuku Beach to the east. This beach also has a campground, making it an ideal spot for spending the day and even a night. There are picnic tables scattered throughout and restroom facilities available for use. The Mālaekahana Campground area is a beautiful mix between beach and tropical woodland.
Hopping between beaches in Kahuku is a great way to spend the day. Since the distances are a bit too far to walk. Kahuku shuttles are the best alternative to save money while still being able to see all the beaches this area has to offer.
Other Activities
For those visitors looking for more physical activities, Kahuku delivers. Climb Works is an outdoor, adventure area with a zip line tour. Visitors of all ages are able to participate in this fun activity. There is also a 9-hole golf course located just behind Kahuku Beach. Kahuku Golf Course offers pristine views of the ocean and an enjoyable round of golf.
The Turtle Bay Resort in Kahuku is one of the most popular hotels and wedding destinations in Oahu. If you're headed to Kahuku for a wedding, SpeediShuttle also provides private wedding charters to the Turtle Bay Resort and more.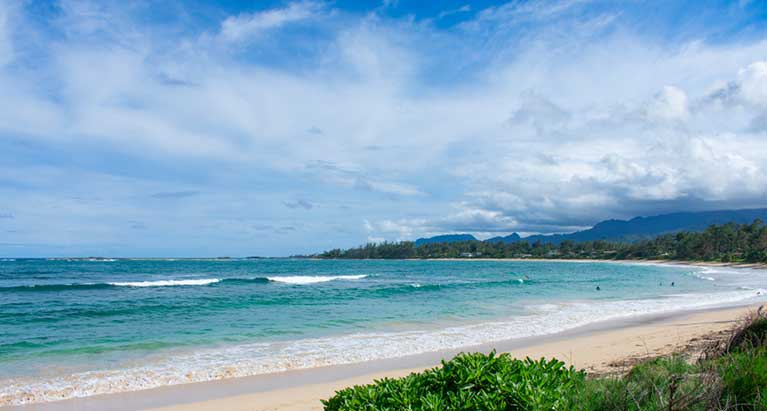 Getting Around Kahuku
While the island of Oahu has just under one million inhabitants, over one-third of them live in Honolulu. This leaves the rest of the island, including Kahuku, as quite sparsely populated areas. This results in little to no public transportation being available from place to place. For this reason, a vehicle is the best way to get around Kahuku. Private Kahuku shuttles from SpeediShuttle are a great option for those visiting for a few days that don't want the added expense and risk of renting a car. These shuttles are able to take visitors to every part of Kahuku, even the places that aren't on tourist maps.
If you're going to Kahuku, reserve your Honolulu Airport Shuttle from HNL Airport and your Oahu Tours with SpeediShuttle!