Back to Islands
Oahu Tours and Things to Do
Oahu Tours
Things to Do in Oahu
If you're headed on an Oahu vacation, SpeediShuttle is a great way to get started. Oahu is known as the Gathering Place for a reason. Oahu is the most developed of Hawaii's islands with something to do and see for everyone. Besides our tours in Oahu, things to do include great shopping, incredible beaches, fine dining, museums, and more.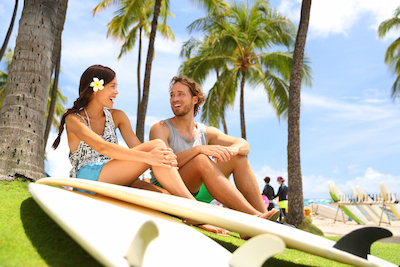 Here are just a few of the places worth checking out in Oahu:
Waikiki – On the South shore of Honolulu, Waikiki is the home to most of the best hotels and resorts in Oahu. Waikiki is most famous for its beaches, but also offers attractions like the Honolulu Zoo and the Waikiki Aquarium for the whole family.
Diamond Head State Monument – One of the most fantastic hikes in the world, Diamond Head State Monument offers the best views overlooking the Pacific Ocean and Honolulu. The hike takes about a 1 and half to 2 hours. Other activities at Diamond Head include Segway tours and bike & hike tours.
Iolani Palace - Built in 1882 by King Kalakaua, Iolani Palace was the home to the last monarchs in Hawaii and is a National Historic Landmark. The palace is open to the public for guided tours and offers special events and festivals throughout the year.
Kailua Beach Park - Located on the easterly shoreline, Kailua Beach Park has breathtaking, turquoise blue ocean watersand white powder sand beaches. Kailua Beach Park has calm waters, great for kids and boogie boards. It's also popular area for kayaking with fun guided kayak rides available.
Makapuu Lighthouse Trail – Located on the southeastern-most point of Oahu, the red and white lighthouse is an iconic destination. It is a natural hiking area with paved trail and a great spot for ocean views and whale-watching.
Lanikai Beach – This is considered the most beautiful beach spot in Oahu. "Lani Kai" translates to heavenly sea, which is exactly what you'll find in this beach paradise. It's a pristine beach that is a favorite of locals and tourists alike.
Reserve your SpeediShuttle today and explore everything the best that Oahu has to offer!