Kahului is a city on the island of Maui, that's the center of the island's commerce and industry, so if you're traveling to Maui for business, odds are you will be heading here. Referred to as the main town by the locals, it has many shops and attractions and is close to some of Maui's natural wonders as well. Here are a few things you cannot miss while you're in town.
Kahului is a working city, so you won't find the throngs of tourists you will in Honolulu. You will, however, find a vibrant local life, allowing you to venture off the beaten urban path. Chat with Hawaiians at the Saturday swap meet, enjoy the cultural center's many outdoor concerts, or lounge on Kanaha Beach watching kite surfers.
Whether you're in Kahului for business or pleasure, you'll need to eat. Avoid the touristy, overpriced spots and the hotel restaurants, and check out where the locals dine. For some of the best seafood around, Like Poke is the place to go. For the tastiest fish on the island and reasonable pricing, grab a fresh made plate and find a picnic table to chow down. For Japanese Hawaiian cuisine, Tin Roof is regarded as one of the best places in all of Hawaii. This tin-roofed outlet doesn't look like much on the outside, but inside it has some of the best fusion cuisine around. Finally, beat the heat with some delicious ice cream at Tasaka Guri-Guri at the Maui Mall.
After your belly is full, the Story of Hawaii Museum is a great place for any visitor, no matter how many times you've visited before. Centuries of maps unfold the island's unique history, along with other objects that highlight the early explorers. One map even suggests Captain Cook was not the first European on Hawaii!
If the weather is beautiful (as it usually is), spend the day outdoors at the Maui Nui Botanical Gardens. If you're interested in native Hawaiian plants, you are sure to spend a wonderful day here. There are free audio guides and personal guided tours available.
From cruise shuttles to airport transfers in Kahului start your trip with a SpeediShuttle!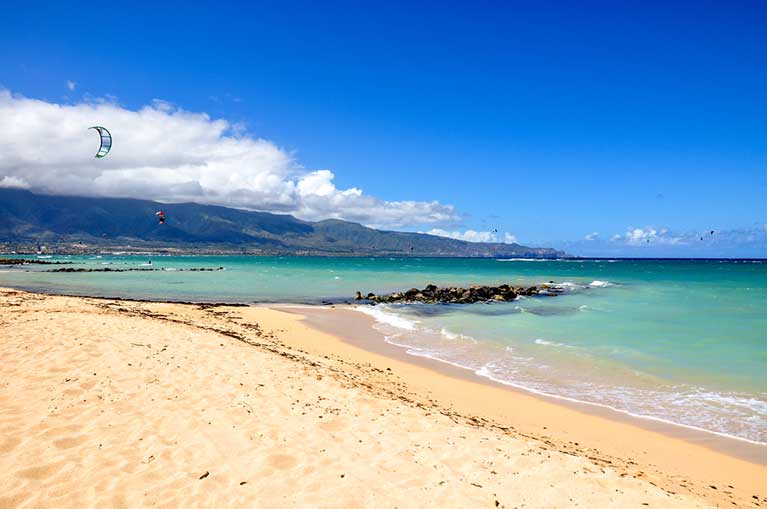 Kahului Travel Tips
There are a few things you should keep in mind for your Hawaiian travels and all your Maui transportation needs.
Kahului is a safe place, with welcoming locals and a strong tourist infrastructure. That being said, it is always good to be wary of your surroundings and exercise best judgment, especially if you're traveling alone. If you plan on doing any hiking or natural excursions, be sure to follow guidelines and keep a charged phone with you. It's also always a good idea to let people know where you are if you are going off on any island adventures.
While Kahului is not an especially touristy city, traffic is often an issue during commuting hours. Leave the stress to us! We have a fleet of vehicles of all sizes to ensure you and your group, no matter the size, gets to and from your destination safely, comfortably, and with air conditioning!