Mauna Kea is a favorite spot in Hawaii for astronomers and stargazers because it is one of the clearest places on the planet to view the night sky! The Mauna Kea summit is a dormant volcano located on the Big Island of Hawaii, and the peaks of island are considered sacred. If you're visiting the Mauna Kea summit, start your trip with SpeediShuttle.
Stargazing
People come from all over the world to see the sunset and stars at Mauna Kea. While there are several observatories on Mauna Kea, these are private research facilities. Stargazing occurs instead at the Visitor Information Station (VIS). Located in a valley, the VIS is an easier way to experience the stars. Traveling higher up the summit requires a 4-wheel drive vehicle and the summit closes a half hour after sunset. The summit also gets extremely cold and altitude sickness is common (it's 14,000 ft above sea level).
Kauna'oa (Mauna Kea) Beach
Located in front of the Mauna Kea Beach Hotel, Kauna'oa Beach is a popular family spot, great for sun bathing on the white sand beaches and snorkeling along the rocky, southern side of the beach. At night, floodlights are turned on to attract manta rays, there's even a lookout called "Manta Ray Point" to get the best view!
Mauna Kea Resort Golf Course
Created in 1964 by Robert Trent Jones Sr., Mauna Kea Golf Course is Hawaii's award winning golf course. While modern improvements have been made to the course, it has kept the original character intact with its lush fairways, seaside cliffs, and coastal views.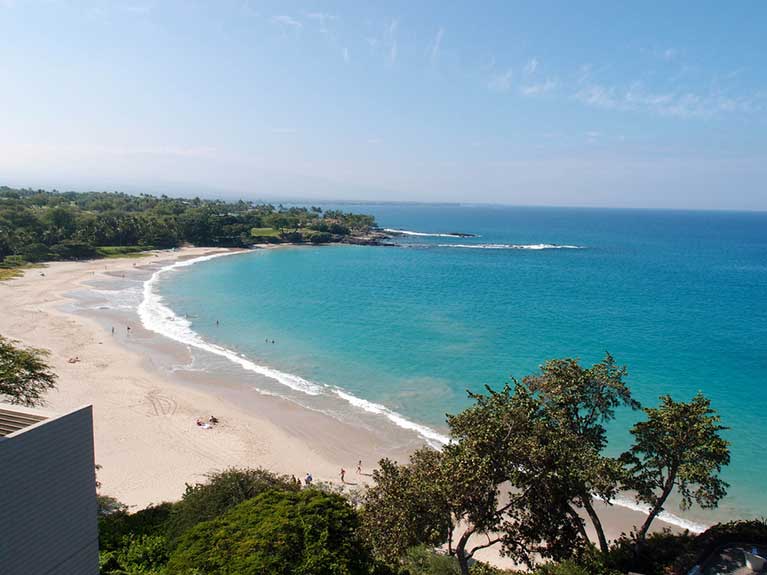 Mauna Kea Trail
Multiple hiking trails exist, but the Mauna Kea Trail is considered the easiest hike to the summit of the Mauna Kea volcano. The trailhead begins at the Visitor Information Station reached by Saddie Road. Due to respect for the culture, hiking to the top of the summit is not permitted. Also, remember that the region is typically very cold. So, bring warm clothing and proper UV protection.
SpeediShuttle transportation is available from Kona International Airport (KOA) to/from Mauna Kea. Book a Kona Airport Shuttle or a Big Island Tours with SpeediShuttle!