Back to Islands
Kauai Tours
From its lush tropical rain forests to its flora and fauna, Kauai is the greenest of Hawaii's islands. That's why it's called the Garden Isle. Visiting Kauai is a little like stepping back in time, perhaps, that is way it's a favorite location for Hollywood films and TV shows. Are you ready to step into paradise? Book Kauai Tours through SpeediShuttle and visit Waimea Canyon - the Grand Canyon of the Pacific - or stay for Kauai's cliffs and sparking beaches.
Kauai Tours
Things to Do in Kauai
Kauai is Hawaii's hidden gem, and is more than just Waimea Canyon. Kauai is full of amazing small towns, great local foods, and historic landmarks. Are you ready to discover Kauai?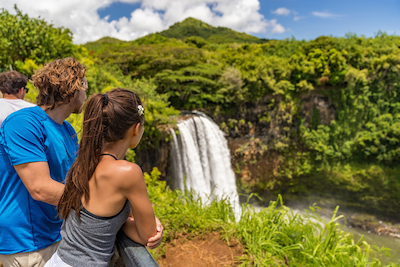 Here are a few of the best places to visit in Kauai:
NaPali Coast – The NaPali Coast is the mountainous shoreline on Kauai's North Shore. The NaPali Coast is unlike any other place with its deep, narrow valleys and green cliffs. Raft tours and helicopters are among most popular ways to see the NaPali Coast.
Poipu Beach - Poipu Beach on the South Shore is a popular spot on the weekends for birthday parties, picnics, and family activities. It's also a popular with seals. Check out the Hawaiian monk seals that sleep on the tombola at Poipu Beach. The western side of the beach a popular spot for beginning body boarders. Renting snorkels and surfboard are also popular at Poipu Beach.
Hanalei Wildlife Refuge – The Hanalei Wildlife Refuge can be tough to find off the Hanalei Bridge, but is a great site to see Hawaii birds. Disturbing the wildlife is prohibited, but visitors can overlook the refuge from an observation point located on the Kuhio Highway in Princeville.
Book a SpeediShuttle and enjoy the wonders of Kauai for yourself.